By Chad Jones for Bleacher Report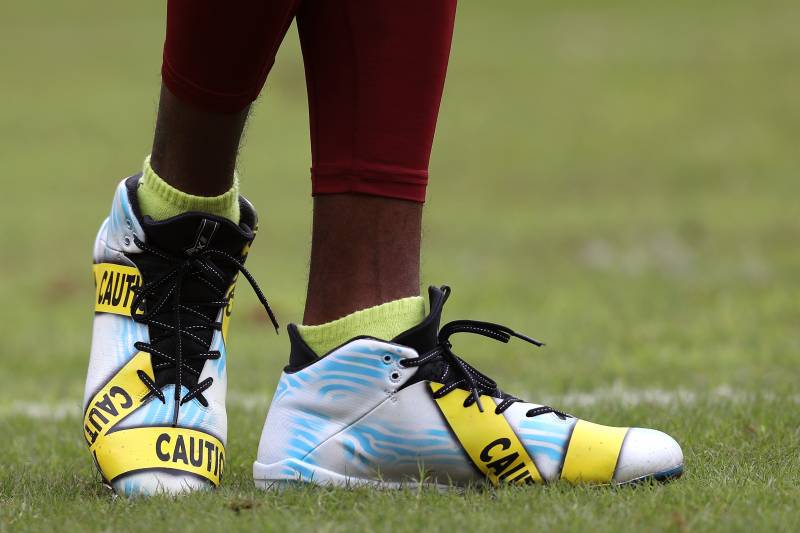 The NFL has not been shy about fining players who violate rules, and when it came to its cleat policy last season, things were no different. In 2016-17, the NFL improper cleat fine total was $42,535—all levied upon Odell Beckham Jr.
But that was last year. Today, with a new desire to pivot away from its perception as the No Fun League, the NFL's new policy on cleat customization may leave players with a little more bread in their pockets and a lot more fire on their feet. While still unable to wear whatever footwear they want during games, players can now wear custom footwear in pregame activities and warmups.
Unsanctioned logos and branding will not be allowed on the cleats, nor will any political statements. Which means that figuring out how not to get fined for customs kicks is harder than you might think. To make sense of how this new rule will affect the game on and off the field, B/R Kicks spoke with leading NFL cleat customizers Troy "Kickasso" Cole, Dan "Mache" Gamache, Jake "Dank" Danklefs and Marcus "SolesBySir" Rivero. These kick gawds have designed custom cleats for the NFL's best, including Beckham, Von Miller, Marshawn Lynch, Terrell Suggs and Victor Cruz.
Bleacher Report: What separates you from the many customizers in the game right now?
Troy Cole: I see a lot of people painting pictures, but nobody is really telling the story. That's what I do with my guys. I like to align myself with the best in the industry, too. That's why I deal with Von Miller and Odell and people like that.
Marcus Rivero: I've been doing it for a long time. I'm going on my fifth NFL season. I currently have about 400-500 guys in the league. I do anywhere from 40-60 pairs a week, and the majority of my business, unlike a lot of other customizers, is from NFL and MLB athletes.
Dan Gamache: I was doing it obviously before the boom, before the social media age, just kind of learning what works and what doesn't. I think the biggest thing with me that's a little different than some of the other guys is keeping the integrity of the shoe when I do a design, or just doing subject matter that resonates with me.
Jake Danklefs: I think a lot of people come to me because they like the almost factory-style finish, and not necessarily the custom look that I do a lot of times. It looks more like a piece of art, rather than the standard custom shoe.
B/R: What is the most memorable cleat you have done for an NFL player?
Cole: Odell and I did a savior cleat last year in honor of Craig Sager. Then we auctioned it off. Literally I just stayed up all night and I painted a Craig Sager-like suit cleat for him to wear. Literally overnighted it, flew it out, dropped it off to him so he could wear it that night. It was a last-second team effort.
Rivero: I think one of the most memorable ones is the one I did for Marshawn. I mean, I made CNN, ESPN and SportsCenter within minutes of me posting the photo, and NFL network called me to borrow my photo rights. He wanted an all gold pair, so I basically had some gold paint, and I didn't really like the gold, so I had some 24-karat put into the paint [so] his shoes had 24-karat gold in them. Those shoes were the first shoes ever banned by the NFL.
B/R: Have you ever gotten a cleat request you didn't think you could do?
Cole: No, I can pretty much do whatever as far as artwork is concerned. Odell and I just did some things that never saw the light of day because his people thought it was too much. I won't really elaborate on what they were, but there's some things that didn't really pass the agent test and the coach test, if you know what I mean.
Rivero: All the time, every single time. I'm currently right now on the phone with you and I'm painting a My Little Pony cleat. Think about that. I'm painting My Little Pony on a grown man's cleat. My Little Pony I didn't think I could do, I can tell you that much.
Danklefs: I'm big on my customs being able to be worn and not fall apart. No paint chipping, no cracking, no stuff like that. I'm really big on that. [When I get a request on] a shoe that's going to crack, plus paint come off, I generally shy away from it, and let them know that that's not a good idea.
B/R: What do you think about the new NFL cleat policy?
Rivero: I'm excited. About two-and-a-half, three years ago, there was this sample sent out by Nike trying to end custom cleats. The funny part about it was I think there were like five or six pictures on it, 90 percent of them were my photos. They basically said that they were going to drop their athletes had they continued to use customs cleats. So the league has come a long way. It went from banning cleats and … threatening to eject [Lynch] out of a Super Bowl game, and look where we are now.
Gamache: Well it's a great feeling knowing that me and the guys that have been doing it made a ripple in such a rigid system. They're the No Fun League. They're known for that. Knowing that we did change that whole culture, it's a pat on the back for us.
Danklefs: It's going to create all new … activities that revolve around customs being worn in games and charity raffle events or certain nights where they all wear a certain type of shoe or inspired by whatever. I'd be willing to bet either this season or early next season, there's going to be a bunch of changes to this rule again.
B/R: How do you think the new NFL rules will affect your business?
Cole: The NFL is secondary to what I do. I'm lucky enough to be able to pick and choose who I work with. It's been interesting to see who reaches out.
Rivero: As soon as the notice got out that day, I got six new customers within the hour.
Danklefs: Maybe chains are funding customs for the whole team rather than one player coming to an artist to get something cool. I think that it's a change in a positive direction, but I don't think it's enough of a change.
B/R: Where do you see design trends going this season?
Cole: We're going to push the envelope to the point where there's pushback. I think without question you're going to see some boundaries pushed and some agendas used. These guys don't have enough of a platform like the NBA players to show their personality. I think this is going to be kind of an open door until the NFL figures out where exactly the line is and who's crossing it and who's not.
Rivero: You're gonna get more messages this year. I don't know if you're going to have [an] "I'm with Kaepernick"-type of symbol on there, but you will find a lot of people showcasing ingenious ways through artists how they feel about certain angles. If you pay close attention, you'll see stuff.
Gamache: It's just a matter of being crafty with it, you know?
Chad Jones, aka Sneaker Galactus, is a sneaker collector from Brooklyn, New York, who has been featured in the Bata Shoe Museum and Out Of The Box: Rise Of Sneaker Culture. Follow him on Instagram at @sneaker_galactus.